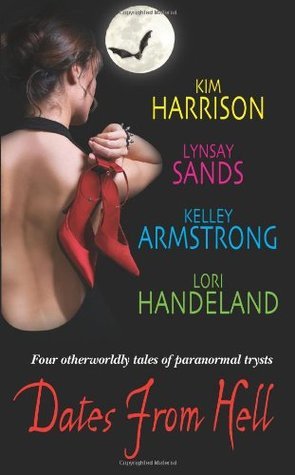 Half-demon
Hope Adams
loves her job. Granted, working for
True News
tabloid isn't quite the career her high-society family had in mind for her. What they don't know is that the tabloid job is just a cover, a way for her to investigate stories with a paranormal twist, and help protect the supernatural world from exposure. When Hope's "handler" sends her and a date to a museum charity gala, Hope suspects there's more to it than a free perk. He's tested her before. This time, she's ready for whatever he throws her way. Or so she thinks...until she meets her target:
werewolf
thief,
Karl Marsten
.
Characters
Edit
Otherworld Series
Novels
Bitten, Stolen, Dime Store Magic, Industrial Magic, Haunted, Broken, No Humans Involved, Personal Demon, Living With The Dead, Waking the Witch, Spell Bound
Novellas & Anthologies
Chaotic, Angelic, Counterfeit Magic, Forbidden, Hidden, Men of the Otherworld
Short Stories
V Plates, The List, Chivalrous, Lucifer's Daughter, Last Stand, Learning Curve, Life Sentence, Twilight, Zen and the Art of Vampirism, Paranormal Romance Blues, The Ungrateful Dead, Stalked, Rebirth, Infusion, Savage, Ascension, Demonology, Birthright, Beginnings, The Case of the Half-Demon Spy, Expectations, Truth and Consequences, Territorial, Ghosts, Escape, Wedding Bell Hell, Adventurer, Bargain, Framed
Ad blocker interference detected!
Wikia is a free-to-use site that makes money from advertising. We have a modified experience for viewers using ad blockers

Wikia is not accessible if you've made further modifications. Remove the custom ad blocker rule(s) and the page will load as expected.