Nicholas Sorrentino
Full Name
Nicholas Sorrentino
Nicholas "Nick" Sorrentino is the son of Antonio Sorrentino, and the grandson of former pack alpha, Dominic Sorrentino. He is also Clayton Danvers's best friend. He is described as tall with heart-stopping brown eyes, olive skin, and wavy brown hair. He is laid back, having no interest in taking over the family business, although he is now beginning to work more seriously. He has a close relationship with his father and the two introduce themselves first as uncle and nephew and later, father and son. He has no intention to have kids and Antonio does not pressure him to have any.
In the books, he becomes close with the new pack member Noah Albright(Stillwell) and Reese Williams, a mutt they rescued. His mother is the only one to be acknowledged in The Legacy. Her initials are LKB. She and Antonio fell in love when Antonio was 16, and she became pregnant with Nick when Antonio was 17. Everyone believes Nick knows nothing of his mother when in fact he does but thinks it will make his father happier if he pretends he doesn't.
Otherworld Series
Edit
Beginnings
Edit
Nick discovers Clay has proposed to Elena Michaels, furious with Clay, because he didn't tell Nick right away when Clay fell in love, and Nick had been trying to hook Clay up with a chick for a while.
Starts when Nick is about 8. He becomes Clayton Danvers best friend and accepts Clay into the Pack even though some of the younger Pack children consider Clay a "freak". He typically goes along with whatever Clay has planned even if it means him tied to a tree and forgotten. Though Clayton mostly left him in the forest to help with his sense of direction.
Nick is first introduced in Bitten when Elena returns to Stonehaven. He does whatever tasks Jeremy assigns to him
Nick, as well as his father, are only mentioned in Stolen, when Jeremy Danvers informs Elena that he told them to remain in Europe.
Nick and his father go to Toronto to help close the portal. Nick confides in Elena telling her that he feels guilty for not wanting to have kids. There are other emotional issues that Nick is going through due to Elena being pregnant and feeling that first his friends will be different and second that he should give his dad a grandson even though he doesn't want children. He goes and helps Elena save the day though almost gets killed in the process.
Nick is framed for killing a human and attempts to figure out who framed him and why without the help from his Pack.
Frostbitten
Edit
Nick makes an appearance towards the end of the novel. He finds the lost Elena in the woods and also helps with the rescue of Noah Stillwell.
V Plates
Edit
Nick and Reese try to help Noah lose his virginity by taking him to a brothel that ends up being run by vetala.
Bitten TV Series
Edit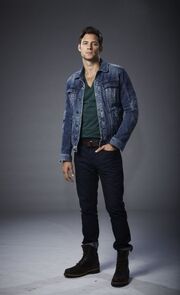 Season One
Edit
Sexy, flirtatious, and gregarious, Nick, the cad of the bunch, uses his charming traits to his advantage.
Season Two
Edit
Rocked by the tragic death of his father Antonio, Season 2, sees Nick growing into the position of Pack Consignee (adviser). Even with the added responsibility, he still finds time sow his wild oats - at least until he meets the cunning and magical witch Paige. With Paige, Nick may have finally met his match, both in combat and in romance. He meets his mom and tells her about his father's death.
Ad blocker interference detected!
Wikia is a free-to-use site that makes money from advertising. We have a modified experience for viewers using ad blockers

Wikia is not accessible if you've made further modifications. Remove the custom ad blocker rule(s) and the page will load as expected.