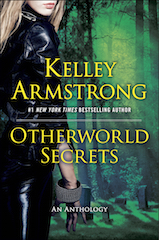 The second of three Otherworld anthologies pulling together previously published stories along with new material. While the contents list is shorter for this one, that's because it's all novellas rather than short stories.
Anthology Contents 1) Life After Theft – new Hope/Karl novella 2) Forbidden – Subterranean Press 2012 Elena/Clay novella 3) Angelic – Subterranean Press 2009 Eve/Kristof novella 4) Zen and the Art of Vampirism – Zoe novella from Subterranean Press's long-sold out "A Fantasy Medley" 5) The Ungrateful Dead – Jaime short story from "Blood Lite" anthology 6) Counterfeit Magic – Subterranean Press 2010 Paige/Lucas novella
Release Date Notes
Edit
Canada and UK editions will be available in early October 2015. US edition has been delayed to January 2016.
Ad blocker interference detected!
Wikia is a free-to-use site that makes money from advertising. We have a modified experience for viewers using ad blockers

Wikia is not accessible if you've made further modifications. Remove the custom ad blocker rule(s) and the page will load as expected.