Peter Myers
Death
Killed By Thomas LeBlanc ✝
Occupation
{{{Occupation}}}
Mentioned
All The Books Above
He is also known as "Pete", and was killed in Bitten by Thomas LeBlanc, another werewolf and is buried in the woods near Stonehaven. The Alpha, Dominic, has said that Peter can not leave with a band that Peter has gotten a job setting up the equipment. This makes Peter choose to leave the Pack. However, months later, Peter calls Jeremy for help when he kills a girl and her roommate. He admits to getting into drugs while on the road which causes him to have problems changing. He goes to a girl's room looses control and accidentally kills her. As he is moving her body the roommate comes in and Peter, in a panic, kills her too. When Jeremy comes to help, Malcolm tries to interfere and kill Peter before Jeremy can talk with Dominic to allow Peter back into the Pack. Malcolm is unsuccessful, however, and after a compromise between Jeremy and Malcolm (so Malcolm won't go to the Alpha with information saying Peter is a man killer), Peter is allowed back into the Pack.
He was killed by Thomas LeBlanc, when Peter, Jeremy Danvers, and Antonio Sorrentino go to collect information on the mutts, and Clay, Elena and Nick weren't allowed to come (Ordered by Jeremy) so they were on a run.
Bitten TV Series
Edit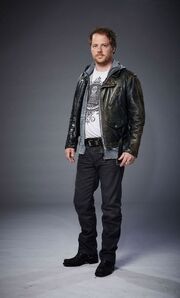 In the TV series,
Zachary Cain
held Peter down while
Thomas LeBlanc
slit his throat.
Ad blocker interference detected!
Wikia is a free-to-use site that makes money from advertising. We have a modified experience for viewers using ad blockers

Wikia is not accessible if you've made further modifications. Remove the custom ad blocker rule(s) and the page will load as expected.